In governor's race, will Arizona immigration law be decisive?
The governor's race will pit the governor who signed the Arizona immigration law, Jan Brewer, against the attorney general, one of its main opponents.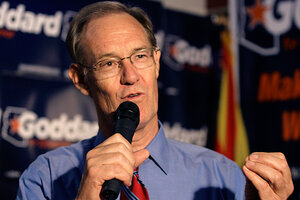 Paul Connors/AP
No sooner had the polls closed in Arizona's Tuesday primary than Republican Gov. Jan Brewer lashed out.
She blasted Democratic challenger Terry Goddard as a big-government candidate, saying he "cut from the same cloth" as her predecessor Janet Napolitano, now the secretary of Homeland Security, and President Obama.
Ms. Napolitano's propensity for big spending while serving as Arizona governor plunged the state into economic ruin, and Obama is doing the same to the country, Governor Brewer told a group of Republicans here in Tucson – a Democratic stronghold in a mostly conservative state – after her easy primary victory.
The candidates' war of words during the primary portends a contentious general election campaign, one likely to play out in the national spotlight given Brewer's primary role in the state's defiance of the Obama administration over illegal immigration.
---