Meg Whitman spends big in California but still trails Brown
Former eBay CEO Meg Whitman has spent $104 million on her California gubernatorial bid but trails Jerry Brown by three points. Will she be the next wealthy politician to fail at the polls?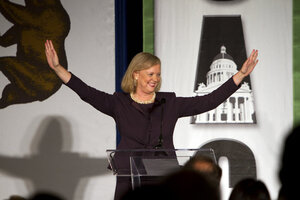 Chris Park/AP
Meg Whitman, the California Republican candidate for governor, has spent a record $104 million of her personal fortune on her campaign, blanketing the state in slick television ads and adding high-priced consultants to her pay roll.
But the former eBay chief executive still hasn't been able to move ahead of her Democratic opponent, California Attorney General Jerry Brown, who has reportedly spent $1.5 million on his campaign, according to the California Voter Foundation.
In an election season in which millionaires from California to Connecticut are vying for office, the struggling Whitman campaign shows that it often take more than deep pockets to win over voters. Indeed, wealthy politicians (think Ross Perot and Steve Forbes) who run self-financed campaigns lose more often than they win.
"She's outspending Brown 86 to 1 and it's still neck and neck," says Sherry Bebitch Jeffe, a political scientist at the University of Southern California. A July Public Policy Institute Poll puts Mr. Brown three points ahead of Ms. Whitman.
---