Jan Brewer debate gaffe: How badly will it hurt her chances?
Arizona Gov. Jan Brewer stumbled badly at the beginning of a gubernatorial debate Wednesday. But Brewer is a Republican in a conservative state, so the damage may be limited.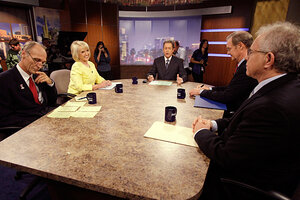 Matt York/AP
Gov. Jan Brewer's much-criticized gaffe during Arizona's first and perhaps only gubernatorial debate may have been embarrassing but it may not necessarily affect her lead over her main opponent.
A stumbling Governor Brewer appeared to have lost her train of thought as Wednesday night's debate got underway and she attempted to spell out her accomplishments as governor, a job she inherited in January 2009 when she was secretary of state. But Brewer went into the debate as a strong favorite, largely due to her support for Arizona's strict and popular immigration law.
"It would be unusual even for that strong of an incident to make a 20-point difference," says William Dixon, a political scientist at the University of Arizona, alluding to recent polls that show Brewer leading over Democratic challenger Terry Goddard.
"Typically, debates don't have a great impact," adds Jim Haynes, president of the Behavior Research Center in Phoenix. "In this case, because of this kind of extraordinary attention that it's continued to draw, it may."
---