Florida surprise: How a Democrat could be elected governor
In an election cycle tilted toward Republicans, Alex Sink, the Democratic nominee for governor in Florida, is holding on to a modest edge in the polls.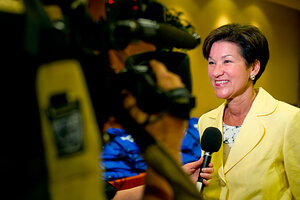 Ann Hermes/Staff
Alex Sink strolls into the dining room at Kingsway Country Club, in Lake Suzy, Fla., dressed casually in a red blouse and navy capris, ready for her sixth campaign event of the day.
It's a friendly crowd, as these things usually are, with a healthy smattering of firefighters and teachers – both loyal Democratic constituencies – and at least one Republican Sink backer, a local lawyer who isn't happy with the GOP nominee for governor, former health-care CEO Rick Scott.
Here in rural southwest Florida, it's Republican territory, but Ms. Sink, the state's chief financial officer and Democratic nominee for governor, is undaunted. She is visiting all 67 Florida counties, from the deep blue to deep red. In her remarks, she touts the endorsements of the state's two law enforcement unions, which usually go Republican, and of Republican elected officials around Florida. She also talks up her background in the private sector: 26 years in business, including as president of Florida operations for Bank of America. She would be the state's first female governor.
Perhaps Sink's most noteworthy feature is that she could actually win, in a national election cycle tilted heavily toward Republicans. With a Republican leading in the Florida race for US Senate, that could result in a split result in this swing state. Since mid-July Sink has held a steady three-point (on average) lead over Mr. Scott, who appeals to some voters with his private-sector track record of job creation but loses others over the $1.7 billion fine his company, Columbia/HCA, paid for Medicare fraud. A three-point lead is margin-of-error territory. Bottom line, the race is a tossup.
---