To fend off Carl Paladino in New York, Andrew Cuomo gets angry
A recent poll showed Republican Carl Paladino narrowing the gap on Democrat Andrew Cuomo in the New York gubernatorial race. Cuomo has responded by showing his angry side.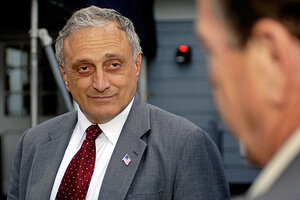 Don Heupel/AP
Maybe New York State needs a new line on the ballot: the Anger Party.
The first angry candidate was Carl Paladino, the Buffalo businessman who won the Republican primary last week by vowing to shake up Albany with a baseball bat once he's in the governor's mansion.
Now, his democratic opponent, Attorney General Andrew Cuomo says he's mad about the way things get done in the state capital as well. And, he was endorsed on Wednesday by another red-faced man – New York Mayor Michael Bloomberg, who observes that the public is frustrated about the partisanship that has taken over the country "from ocean to ocean, border to border."
Indeed, political pollster John Zogby of Zogby International in Utica, N.Y., says the mood in the country is "down with whoever is up."
He says the voters "are disillusioned, they want change and they want to know how they get it and who is there to help them."
---
Follow Stories Like This
Get the Monitor stories you care about delivered to your inbox.