Why Whitman and Brown are deadlocked in California governor's race
The latest poll of the California governor's race shows Republican Meg Whitman and Democrat Jerry Brown tied at 41 percent. Many voters remain undecided, so upcoming debates will be crucial.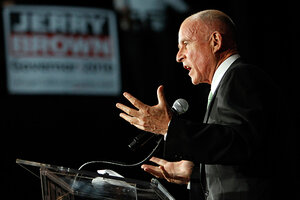 Mario Anzuoni/Reuters/file
The latest poll of the California gubernatorial race offers an intriguing portrait of a campaign in which neither candidate seems able to shake the other and both appear to have succeeded only in turning off voters through negative ads.
With six weeks to go before the Nov. 2 vote and five days before their first of five debates, Democratic Attorney General Jerry Brown and Republican millionaire and former eBay executive Meg Whitman are tied at 41 percent each among likely voters, according to the nonpartisan Field Poll released Wednesday.
With the debates coming, this is the beginning of a new and decisive phase in the election, and the poll holds several key surprises, says poll director Mark DiCamillo.
• Ms. Whitman has a narrow lead in Los Angeles County, which accounts for nearly 25 percent of the statewide vote. Usually, the county is key to Democratic wins – the typical path to victory for Democrats is to win liberal San Francisco and Los Angeles and then do what they can in the rest of the state, Mr. DiCamillo says. Mr. Brown has a 40 percentage point lead in San Francisco, meanwhile.
---