Will Meg Whitman's illegal maid hurt her with California Latinos?
Latinos are 19 percent of California voters. The flap over Nicky Diaz Santillan, GOP gubernatorial candidate Meg Whitman's former housekeeper, could make a difference in how they vote.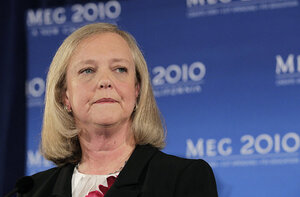 Jae C. Hong/AP
It has not been a good week for Meg Whitman.
The Republican candidate for governor of California is still having to answer questions about when she and her husband might have known that the Mexican housekeeper they hired for years was in the United States illegally.
That's cost Whitman precious time when she'd rather be staying on message in her neck-and-neck race against California Attorney General and former governor Jerry Brown.
Although she's never held public office, the former eBay CEO has shown herself to be a political fighter, and the billionaire businesswoman has the campaign war chest to hold her own between now and the election one month from now.
But can she do it with Latinos, who comprise 19 percent of California voters? Will the flap over Nicky Diaz Santillan, the housekeeper Whitman fired, make any difference with this important part of the electorate?
Saturday she's getting the chance to find out as she and Brown debate in California's central valley, home to much of the state's Latino population. The debate will be aired on the Spanish-language Univision network.
RELATED: The political perils of employing illegal help: six memorable cases
---