How New York would look if Carl Paladino made his budget cuts
New York Republican gubernatorial candidate Carl Paladino says he expects to remove $14 billion from the state budget over the next two years if elected. Observers say such ambitious plans are hard to deliver.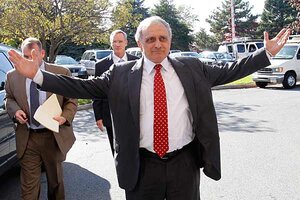 Mike Groll/AP
Forget about Carl Paladino's tough-guy threats to use a baseball bat on the legislature. It's his axe that has some people in Albany worried.
If Mr. Paladino, the Republican candidate for Governor, gets elected, he talks about hacking away at entire agencies, reducing the salaries of every non-union worker by 10 percent, and significantly paring the amount paid to doctors and hospitals. The main word in his vocabulary is "cut."
"I've said I'll cut taxes by 10 percent, cut government by 20 percent, provide our business relief from the onerous taxes and regulations strangling them today – and I'll cut Medicaid by $20 billion," he said on Tuesday at a breakfast speech at Crain's New York Business.
Paladino is far from alone. In California for example, Meg Whitman is talking about leaner services as well. Other states facing projected budget deficits, such as Arizona, Florida, and Maryland will be watching New York, says Lee Miringoff, political director of the Marist Poll in Poughkeepsie, New York.
---