Did final Meg Whitman-Jerry Brown debate change anything?
Tuesday's California gubernatorial debate between Meg Whitman and Jerry Brown was the last before the election, making it crucial for both candidates.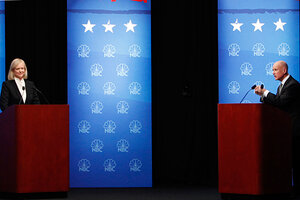 Rich Pedroncelli/AP
The liveliest of three debates, yet still light on economic specifics. Meg Whitman still relies on script and is not concrete enough. Jerry Brown ahead on facts and particulars.
Those are a few of the assessments by political analysts after the final debate between California gubernatorial candidates Mr. Brown (D) and Ms. Whitman (R). With three weeks until election day and Californians casting mail ballots now, this last matchup was seen as crucial to Whitman forging a comeback or to Brown cementing his fresh lead in polls.
"Voters have a clear choice, but does Whitman come off as another Arnold [Schwarzenegger] who tried but ultimately fell short? And do voters see Brown a career pol who has done the job but is he 'old news and ancient history?' "says Hal Dash of Cerrell & Associates, a Democratic strategy consulting firm. "Overall, Whitman and Brown had passion, a decent amount of specifics, but clearly both are struggling with a real economic recovery plan for California."
Brokaw hits scandals head-on
Veteran moderator Tom Brokaw confronted the scandals hanging over each candidate's head directly.
Brown apologized directly to Whitman and called a remark by a campaign aide caught on voice mail calling Whitman a "whore" "unfortunate." But he also bristled at Mr. Brokaw's suggestion that to women the word is as offensive as the "n-word" is to African Americans.
---