Meg Whitman declines Jerry Brown challenge to stop negative ads
At a women's conference, moderator Matt Lauer challenges California's gubernatorial candidates to stop negative ads. Jerry Brown said he would if Meg Whitman did. Whitman skirted the issue.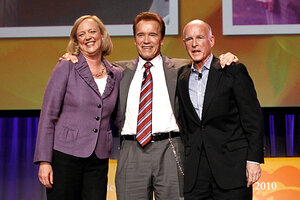 Matt Sayles/AP
Slipping in the polls and with one week until Election Day, California gubernatorial candidate Meg Whitman upset a boisterous crowd by ignoring a pledge to stop running negative ads.
Ms. Whitman shared the stage with Gov. Arnold Schwarzenegger and her Democratic challenger, Jerry Brown, at the Women's Conference in Long Beach, Calif., Tuesday. In response to a moderator's challenge to the candidates that they "drop all negative ads up to election day," Mr. Brown responded: "If Meg wants to do that, I'll be glad to do that."
Whitman was booed by the crowd of 14,000 women in attendance when she said, "I will take down any ads that can be construed as a negative attack. But I don't think we can take down the ads that talk about where Gov. Brown is on the issues." [Editor's note: The original version misattributed a quote to Meg Whitman.]
The decision could prove costly, says Barbara O'Connor, director of the Institute for Study of Politics and Media at California State University, Sacramento.
---