How Meg Whitman dropped 10 points behind Jerry Brown
Meg Whitman, the Republican nominee for California governor, has been hurt by an undocumented housekeeper scandal, political inexperience, and perhaps even her own attack ads.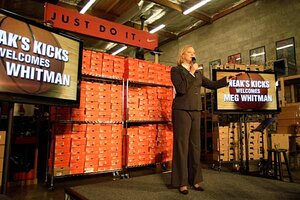 Lenny Ignelzi/AP
With five days until the election, a California Field poll shows Republican Meg Whitman trailing Democrat Jerry Brown by 10 points in the race for governor. Last month the same poll showed the two in a virtual tie.
How did that happen?
In the end, say analysts, heavy campaign spending – $142 million of her own money at last count – was unable to overcome Ms. Whitman's political inexperience and the news that she employed an undocumented housekeeper for nearly a decade.
Californians already tried an outsider with millions of his own money – Gov. Arnold Schwarzenegger – and are not happy with the outcome. Now, in a time of trouble, it seems a state that already leans Democratic is searching for a known quantity in Mr. Brown, who has been California's governor before.
Whitman's money, trumpeted early on as a difference-maker in the race, might have even contributed to negative opinions of her, says Barbara O'Connor, director of the Institute for Study of Politics and Media at California State University, Sacramento.
She has pummeled California airwaves for months with ads painting Brown's 40-year career in California politics as a failure. But the ads appear not to have had the desired effect.
When Whitman began her first major advertising blitz in March, 40 percent of state voters had a favorable view of her and 27 percent viewed her negatively. Now, her unfavorable ratings have nearly doubled to 51 percent, the Field poll found.
---