Wisconsin recall: Why Democrats think Barrett can beat Walker this time
Democrats in Wisconsin chose Tom Barrett, mayor of Milwaukee, to challenge Gov. Scott Walker (R) in a recall election next month. It's a reprise of their 2010 contest, but now Walker has a record to defend.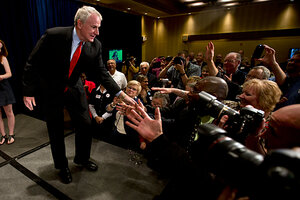 Morry Gash/AP
Wisconsin voters on Tuesday chose Milwaukee Mayor Tom Barrett as the Democratic Party's nominee for governor, a move that turns back the time machine to 2010 for a rematch between Mr. Barrett and now-incumbent Gov. Scott Walker (R).
The first time, Mr. Walker won by almost six percentage points. But the governor now faces a recall election, and this time he has a record to defend. That means this new election – set for June 5 – will be quite a bit different from the last, say some political analysts.
"Scott Walker now has a record and Barrett will want to attack that record. The dynamic is really different when you have an incumbent running," says John McAdams, a political scientist at Marquette University in Milwaukee.
Walker's campaign took little time to point out that Barrett is entering his "third statewide losing campaign" for governor, according to a statement released late Tuesday. Barrett also ran for governor in 2002 but lost in his party's primary.
The top issue facing both candidates is jobs. Nearly half of primary voters rank "creating new jobs" as the most important issue in the race, while 25 percent say they are voting simply to defeat Walker, according to early May polling by the Marquette University School of Law. Twelve percent said the prevailing issue is restoring the collective bargaining rights of public-sector employees. Last year, Walker pushed through legislation that curtailed those rights, igniting a firestorm that carried through to the current recall. [Editor's note: The original version has been changed to correct the name of the law school that did the polling.]
---