'War on women' comes to Wisconsin recall – and could be decisive
Several bills signed by Republican Gov. Scott Walker have angered women's rights activists and have motivated women to get behind the effort to recall him.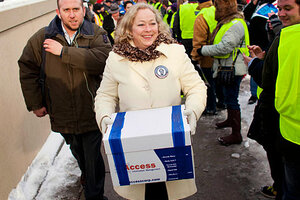 Darren Hauck/REUTERS/File
Edna Kunkel calls herself an "accidental activist." A writer of technical and scientific manuals from Verona, Wis., she came of age at the height of the women's movement, and she never expected to take to the streets in defense of those causes more than 30 years later.
In large part, Ms. Kunkel became a women's rights activist in her 50s because of Wisconsin Gov. Scott Walker. On one April day alone, the Republican signed a slew of laws on subjects ranging from education to abortion that many activists say amount to a "war on women."
"Who is making this stuff up? Why is this happening now?" she recalls thinking.
Those bills did not trigger Governor Walker's June 5 recall election. But what began last year as a backlash to the governor's landmark antiunion bill has in many respects become a test run for the national elections to come in November, and the alleged "war on women" that has played out on the presidential stage has also taken shape here.
In that way, Wisconsin could be a window on how the issue will play out nationwide in the fall. For one, it has made Walker's battle to fend off his recall harder, with polls showing women viewing him far less favorably than do men. Moreover, it has kindled the fire of women like Kunkel, who are becoming politically engaged – some for the first time – as they see his reforms as unraveling the rights they fought so hard to win.
Walker's name became especially linked with the alleged Republican "war on women" on Good Friday in early April. That's when news came out that the previous day, Walker had quietly signed four bills.
---