Wisconsin recall election: Why voters can't wait for it to end
The Wisconsin recall election is leaving many voters with a bitter taste, regardless of whom they supported. They see their state as tarnished, taxpayers' money as wasted, or divides as deepened.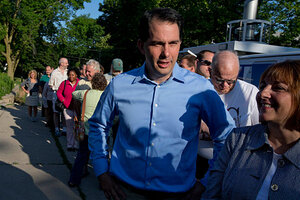 Morry Gash/AP
For many Wisconsin voters, heading to the polling booth Tuesday for the historic recall election for governor was a bit like heading to the dentist: They didn't want to be there, wanted it to be over as soon as possible, and didn't want to return anytime soon.
"Just appalling," says Cindy Sheeran, a self-described housewife, as she left a municipal building where she voted in this southeastern Wisconsin town. "I am glad it's over with. It made the whole state look bad. Let's hope it doesn't happen again."
No matter which candidate got their support – incumbent Gov. Scott Walker (R) or Milwaukee Mayor Tom Barrett (D) – many voters interviewed on Election Day said the recall has taken a toll on their state. Some complained that it wasted millions of taxpayer dollars; others said it created bitterness in their communities, pitting neighbor against neighbor. Some, like George Zarovy, an unemployed architect, said they are "amazed" that they live in a state where such an election was even needed, no less that it polarized so many for nearly 16 months.
"It's been a rather tumultuous experience. When it's finally over with, I hope we can talk to each other civilly again," says Mr. Zarovy, whose vote went to Mayor Barrett. "How can so many people be of like mind and, at the same time, be of opposite?"
Even before the primary in early May, polls showed Governor Walker leading any prospective challenger by a few percentage points. That never changed. In the latest poll, released late Sunday by Public Policy Polling in Raleigh, N.C., Walker was leading Barrett 50 percent to 47 percent.
---