Top labor union aims to topple six GOP governors: payback or big risk?
For 2014, the AFL-CIO is targeting Republican governors in Florida, Maine, Michigan, Ohio, Pennsylvania, and Wisconsin, which have signed bills curbing union rights. But big-spending GOP 'super PACs' could stand in the way.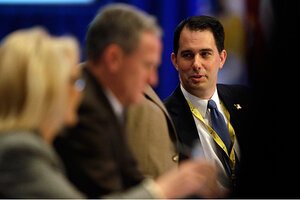 Morry Gash/AP
America's most powerful labor union is targeting six Republican governors in a campaign to remove them from office in 2014.
The strategy is considered by payback for a series of attacks on organized labor since November 2010, when voters ushered the new wave of hard-right Republicans into office. The legislation the governors pushed curbed many unions' collective bargaining rights, established right-to-work laws, clamped down on voting rights, and, subsequently, diminished union strength in those states.
The GOP governors said the battle was about balancing budgets, but it looked to the unions like a frontal assault on their survival. That's why the AFL-CIO, rather than accepting the 2014 election as a referendum on President Obama, aims to bring the fight to the states that mark the breaking point for union growth.
"The stakes for working people are particularly high. We think these are states in which the legislative and political framework could tip significantly one way or another," says Jeff Hauser, an AFL-CIO spokesman in Washington.
The six governors are primarily from the Midwest: John Kasich in Ohio, Rick Scott in Florida, Rick Snyder in Michigan, and Scott Walker in Wisconsin, plus Tom Corbett in Pennsylvania and Paul LePage in Maine. Mr. Hauser says the AFL-CIO will not neglect important state and congressional races in the rest of the country, but its "focus" will be those six battlegrounds where the majority of its 12 million members are located.
---