Charles Rangel ethics mess: another thing Democrats don't need before election
Rep. Charles Rangel of New York says he won't resign his seat or drop out of his reelection race. A House trial on ethics violations may remind voters that Democrats haven't ended the 'culture of corruption' in Washington.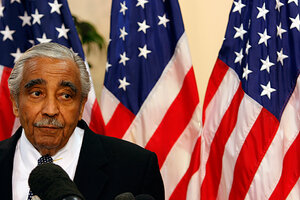 Mary Altaffer/AP
Just when the Democrats thought they had dodged one potentially explosive situation well before Election Day – the shorter-than-expected trial of former Illinois Gov. Rod Blagojevich – another irascible Democrat has reared his head, Rep. Charlie Rangel of New York.
The 20-term Congressman Rangel faces allegations by the House ethics committee, with specifics to be laid out next Thursday. But Democrats are already fearing the worst: that the prospect of a public trial right in the heat of midterms gives their brand the whiff of scandal, on top of the struggling economy and lack of public confidence in both the White House and Democratic-led Congress to solve the nation's problems. Democratic control of the House, in particular, is seen as being in jeopardy.
"The timing couldn't be worse for Democrats," says Peter Fenn, a Democratic communications strategist. "I think [House GOP leader] John Boehner would just love to see this go on for about 12 weeks."
---
Follow Stories Like This
Get the Monitor stories you care about delivered to your inbox.