GOP's Pledge to America laced with 'tea party' slogans
Economically, the GOP's Pledge to America, released Thursday, is aimed at small businesses, repealing health-care reform, for example. But the document is also a clear pledge to 'tea party' supporters: You can trust us.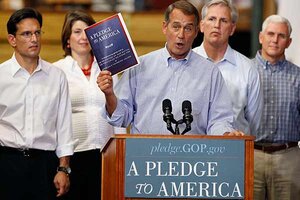 Larry Downing/Reuters
Flanked by drywall and cedar planks at a family-owned lumber company, House Republicans on Thursday released a long-promised governing agenda, laced with 'tea party' slogans, that aims to create jobs by shrinking the size and scope of government.
Call it the un-stimulus. The heart of the Republican plan is that you create jobs by cutting government spending and reducing the uncertainty so that small businessmen, like the Tart Lumber Company in Sterling, Va., can invest and hire.
The plan would permanently extend the Bush tax cuts, repeal and replace health-care reform, zero-out unspent stimulus funds, and roll back government spending to 2008 levels – before President George W. Bush bailed out banks or President Barack Obama signed a $789 billion stimulus package.
The plan also aims to restore trust in Congress, now near historic lows, and boost national and border security, including fully funding missile defense, enforcing sanctions against Iran, and reaffirming the authority of state and local law enforcement to assist in the enforcement of all federal immigration laws – a slap at the Justice Department's lawsuit against Arizona.
What the plan does not include is a call for a balanced budget amendment, privatization of Social Security, or an outright ban on earmarks or projects targeted to member districts – all GOP conservative talking points in recent years. It also did not detail specific programs to be cut or signal how the increases in defense and homeland security spending squared with getting the nation back onto a path toward a balanced budget.
---