Why the NRA is rallying behind endangered Democrats
Historically, the NRA has overwhelmingly supported Republicans. But Democrats began backing many pro-gun House candidates in 2006, and now the NRA is coming to their defense.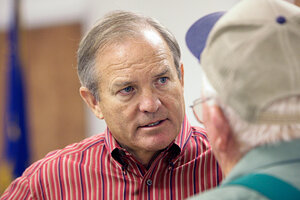 LM Otero/AP/file
The National Rifle Association – one of the top all-time donors to Republican candidates – is backing some of the most embattled House Democrats in Election 2010.
The endorsements this week come at a critical point in a campaign cycle expected to be bruising for Democrats, especially moderates elected in 2006 and 2008.
These moderates are evidence of how Democrats successfully moved into Republican territory during the past two election cycles, in large part by putting forward candidates who favor gun rights. Now, the NRA is rallying to the cause of many these imperiled Democratic, pro-gun moderates, suggesting that the organization's political donations are less partisan than pragmatic.
In some cases, pro-gun Democrats were given the nod over pro-gun Republicans. For example, Rep. Tom Perriello (D) of Virginia was favored over state Sen. Robert Hurt (R), his GOP challenger in a race that is dead even.
The National Republican Congressional Committee, the campaign arm of House Republicans, declined comment on the NRA endorsements.
---