Will 'tea party' backing for third-party candidates boost House Dems?
Third-party candidates with 'tea party' support stand to siphon votes from Republicans in as many as 20 House races.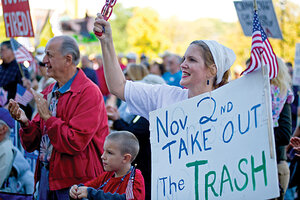 Ann Hermes/Staff
The annual Greene County Republican Party pig roast featured spiced pork and a touch of reconciliation as conservative activists marked their truce with House GOP candidate Robert Hurt.
Most had no doubt preferred one of Senator Hurt's six primary-election opponents, but Hurt, seen as a moderate, carried the day districtwide. The big question now is whether Hurt has done enough to woo these conservatives, or whether some will vote Nov. 2 for a third candidate with "tea party" credentials – or not vote at all – and cost Hurt enough support to throw the win to the Democratic incumbent.
As the Republicans vie to take over the House, 12 to 20 seats could turn on the strength of third-party candidates, say independent analysts. Most sit to the right of the GOP nominees, and they could give Democrats a surprise 11th-hour assist in key races by fracturing the conservative vote, even a little. In a tight race – like the one in Virginia's Fifth Congressional District – 1 or 2 percent of the vote could tip the outcome.
"A tea party person running as a third-party candidate can make a big difference. They're the rising tide – the political faction that has the greatest amount of motivation and energy," says Ross Baker, a political scientist at Rutgers University in New Brunswick, N.J. "There's no question but that the tea party franchise in this election is a very valuable marketing tool, and anybody can lay claim to it and nobody can be denied it. That's what makes things unpredictable."
---