Arkansas: last bastion of the Southern Democrat poised to fall
Polls suggest that Arkansas' House contingent could flip from three Democrats to three Republicans Tuesday. One of the seats has been Democratic since Reconstruction.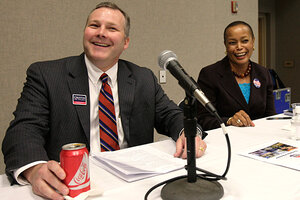 Danny Johnston/AP/file
Arkansas hasn't elected a Republican to its First Congressional District since the Reconstruction Era. In the Second Congressional District, which includes Little Rock, a Republican has been elected to the office only once since 1875.
Currently, three out of the four state's congressional seats are Democratic. That could flip Tuesday night to Democrats holding only one seat.
It looks set to be a bad year for Democrats across the country, and in Arkansas, the GOP tide that has swept the South during the last 30 years may finally arrive in Bill Clinton's home state.
Polls show Sen. Blanche Lincoln as many as 20 points behind her Republican opponent, Rep. John Boozman. Even some state constitutional offices, which have favored Democrats for decades, sit in the toss-up column. One of the only safe Democrats is popular Gov. Mike Beebe, who leads his GOP challenger by more than 30 points in some polls.
---