On historic night, Republicans sweep House Democrats from power
Republicans needed to claim 39 Democratic seats to retake the House Tuesday. They won more than 60, surpassing the 'Republican Revolution' of 1994.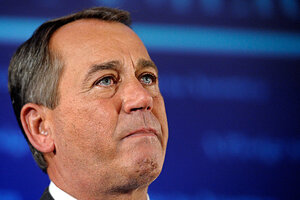 Cliff Owen/AP
In a broad rebuke to President Obama's agenda, Republicans have taken back the House of Representatives in a win of historic scope.
Early Wednesday morning, Republicans appeared poised to pick up about 65 seats. They needed 39 to take control of the chamber.
Losses for the Democratic majority ranged from vulnerable freshmen elected on President Obama's coattails, such as Rep. Tom Perriello (D) of Virginia, to popular Democratic veterans, such as 14-term House Budget chair Rep. John Spratt (D) of South Carolina and nine-term Rep. Earl Pomeroy (D) of North Dakota. The latter two both won their last races with 62 percent of the vote.
Backed by strong conservative protest movements including the tea party, GOP candidates framed their campaigns as a rejection of the Obama agenda: bailouts, a $787 billion stimulus plan, sweeping health-care reform, and Wall Street regulation. Network exit polls signaled broad voter concerns over jobs and the economy and the president's leadership.
---