Speaker-to-be John Boehner: More confrontation or a hint of compromise?
After a House Republican landslide, presumptive Speaker John Boehner will have to handle a wounded President Obama and tea party lawmakers emboldened by their success. In a Monitor interview, Boehner suggests ways that he might be able to bridge the gap between the two.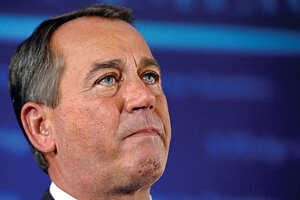 Cliff Owen/AP
He grew up here in a small house with 11 brothers and sisters – a brood so big that when a young John Boehner first brought his girlfriend (and future wife) home for dinner, he told her that all the kids in the backyard were neighborhood friends. In fact, they were his siblings.
He worked at the family bar, the one with the moose head still hanging on the wall, to help pay his tuition to Roman Catholic high school by mopping floors and waiting on tables. Later he would take over a struggling plastics container business after the death of its owner, a baptism in small-town capitalism that shaped his views of the role of government in business.
As Republican House minority leader Boehner prepares to become the likely next speaker of the US House of Representatives in January, he will draw on his varied experiences growing up in this blue-collar town outside Cincinnati, as well as his two decades in the marbled halls of Congress, to guide him through what may be one of the toughest tenures as House leader in modern times. He will have to navigate a bumper crop of tea-party-infused GOP freshmen as well as battle-hardened Democrats at a time when the American electorate seems unusually impatient with its political leaders.
Boehner professes to be up to the task, in part because of what he learned in the sharp-elbowed world of saloons and siblings of his youth.
---