What lessons will GOP take from losing New York-26 House seat?
Medicare is indeed a perilous issue for Republicans, Tuesday's House race in New York's 26th District showed. But so are third-party candidates and tepid campaigns.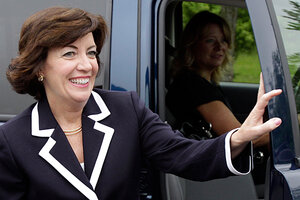 David Duprey/AP
A Democratic upset on GOP turf in upstate New York signals that Medicare reform is a perilous issue for Republicans – but so are tea party candidates in a three-way race, tepid campaigns, and a flood of outside money.
That's the mixed message from Tuesday's special election in New York's 26th Congressional District, a special election that drew national attention and funding as a bellwether for the 2012 campaign cycle.
Democrat Kathy Hochul came from behind in the campaign's last weeks to defeat GOP nominee Jane Corwin, 48 percent to 42 percent. Tea party candidate Jack Davis took 8 percent of the vote.
House Republicans took the race seriously from the start, with Speaker John Boehner accepting the resignation of Rep. Christopher Lee (R) just hours after compromising photographs of him appeared on a gossip website. Big names appeared on behalf of the GOP establishment candidate; outside conservative groups poured funds into her campaign.
In the end, it wasn't enough to fight off a Democratic campaign fixed on GOP plans to overhaul Medicare for seniors.
"We can balance our budget the right way – not on the backs of our seniors, but by closing corporate loopholes for companies that ship jobs overseas, and ending subsidies to Big Oil and yes, by making the multimillionaires and billionaires pay their fair share," said Congresswoman-elect Hochul, in a statement after the vote on Tuesday. "And we can ensure we do not decimate Medicare. We will keep the promises made to our seniors, who have spent their lives paying into Medicare, so they can count on health care when they need it most."
---
Follow Stories Like This
Get the Monitor stories you care about delivered to your inbox.