In Election 2012, how much is the House in play? Three sides to the story.
Steve Israel outlines his scenario for the Democrats winning back the House. Pete Sessions says the GOP could actually increase its hold. Analysts say the reality is somewhere in between.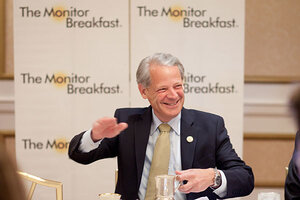 Michael Bonfigli/The Christian Science Monitor
Rep. Steve Israel (D) of New York and Rep. Pete Sessions (R) of Texas spend their days locked on to the same task: winning the House of Representatives.
At breakfast forums sponsored by The Christian Science Monitor this week, the two men – the chairmen of the Democratic and Republican congressional campaign committees charged with reelecting their colleagues to the House – laid out their arguments for why their party would appoint the next Speaker of Congress' lower chamber.
While nonpartisan analysts expect Democrats to edge out small gains, Congressman Israel thinks his party has a plausible route to the 25 net seats Democrats must claim to win back the House.
Representative Sessions, for his part, believes Republicans could eke out a small gain.
"The opportunity we have today is very much like the 2010 cycle," Sessions said, referring to the tidal wave that sent 63 new Republican members to Washington. "Every single week there is new news that is negative that relates directly to the president's policies."
The truth, says David Wasserman, House editor of the nonpartisan Cook Political Report, is between the two.
---