Ron Barber's win in Arizona House race a lift for dispirited Democrats
Voters in former Rep. Gabrielle Giffords' House district elected Ron Barber, the retired congresswoman's aide, to serve out her term. Barber defeated a tea-party-backed candidate in a district where registered Republicans outnumber Democrats.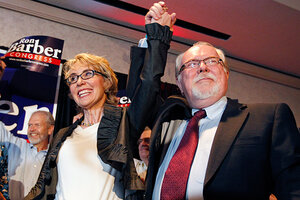 Ross D. Franklin/AP
Ron Barber, an aide to former Rep. Gabrielle Giffords (D) of Arizona, has won the special election to fill out the remainder of the retired congresswoman's term in Congress.
The victory by Mr. Barber, a survivor of the mass shooting that severely wounded Ms. Giffords last year, gives the Democrats a break from the bad news that has dogged the party and President Obama this month. Barber beat the tea-party-backed Republican, Jesse Kelly, 52 percent to 46 percent in a district with a 26,000-vote registration edge for Republicans.
Both parties used the race as a testing ground for messages they hope will be effective in November. The Democrats pounded Mr. Kelly, a former Marine who lost to Giffords in 2010, for past statements proposing privatization of Medicare and Social Security. The Republicans sought to lash Barber to Mr. Obama's health-care and economic policies.
But the race has limited value as a national bellwether. Barber's tie to Giffords, and the January 2011 massacre in Tucson that nearly took both of their lives, gave the special election an emotional dimension that is unique. The popular Giffords had asked Barber to run for her seat, and she campaigned with him the weekend before the vote.
Still, the Barber victory gives Democrats something to grab onto in their quest to keep the White House – and their uphill battle to retake control of the House.
---