Is today's Democratic primary the last hurrah for Rep. Charles Rangel?
Charles Rangel has a storied past in Harlem and the US House of Representatives, where he has served 21 terms. But ethics violations, censure, and redistricting could take a toll in Tuesday's primary.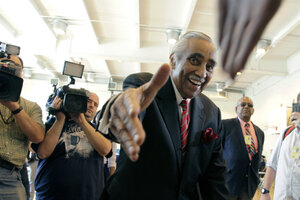 Mark Lennihan/AP
Will being censured by the House of Representatives last December cost Rep. Charles Rangel (D) of New York his seat?
The 21-term congressman will find out Tuesday after voters go to the polls in northern Manhattan, Harlem, and a small part of the Bronx to select who will be on the Democratic ticket in November – practically a guarantee of election in New York's 13th Congressional District.
In the past, this wouldn't even be an issue. Mr. Rangel, a decorated Korean War veteran who helped funnel vast federal dollars toward the revitalization of his district, usually had no trouble fending off challengers. He was always well versed on the issues, and he had a gravelly voice that resonated with voters. Many 50-year-olds still remember when he handed out candy to them.
But times have changed.
The boundaries of Rangel's district have been changed – giving it a much larger proportion of Hispanic voters. Rangel himself, once a vigorous campaigner, has slowed down. And Rangel no longer has the clout he used to have when he ran the powerful House Ways & Means Committee, which sets tax policy and writes bills affecting Social Security, Medicare, and other entitlement programs.
---