Why South Carolina special election is no big deal
With a quirky cast of characters, the special election in South Carolina for a seat in the US House is more idiosyncratic than most – but it's still likely to go Republican.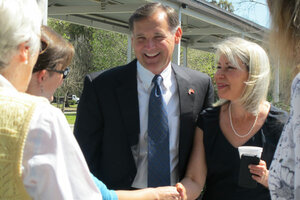 Bruce Smith/AP
In South Carolina's First Congressional District on Tuesday, voters will decide which Republican – former Gov. Mark Sanford or local city council leader Curtis Bostic – will survive to face Democrat Elizabeth Colbert Busch in a special election next month.
Could the seat shift power in Congress? No, as Republicans hold an advantage of better than 20 seats in the House.
Will the quirky race for the Palmetto State's First Congressional District prove a harbinger of the 2014 electoral climate?
Recent history has shown special elections are not clear heralds of the full contests to come. In 2011, Democrats crowed that Kathy Hochul's victory in a conservative, upstate New York district proved that the budget from Rep. Paul Ryan (R) of Wisconsin would spell political doom for the GOP House majority.
Republicans likewise swore that the win by Rep. Mark Amodei (R) of Nevada in a separate special election that year proved the GOP could withstand a barrage of attacks regarding the Ryan budget.
What turned out in 2012? Murkiness.
First, Ms. Hochul lost her seat, even as Democrats cut into the GOP House advantage. Yet Democrats made very few gains in the sort of solidly red territory where Mr. Amodei was elected.
---