Ronald Reagan: How possible GOP presidential candidates measure up
Ronald Reagan, who would have turned 100 on Sunday, is uniquely revered by Republicans. In this year of Reagan nostalgia, those jockeying for the GOP's 2012 presidential nomination could vie for his mantle.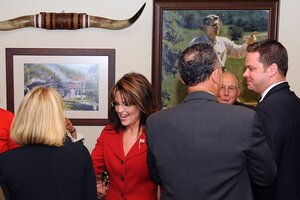 Newscom
When moderator Grover Norquist asked the five candidates seeking the chairmanship of the Republican National Committee to name their hero in a debate last month, he issued one restriction: someone other than Ronald Reagan.
Indeed, had he not said that, all five likely would have voted for the 40th president in lock step. President Reagan, who would have turned 100 years old on Sunday, still holds a unique place of reverence for Republicans. One candidate managed to sneak Reagan in anyway. When asked to name his favorite book, Reince Priebus – now RNC chairman – chose The Reagan Diaries.
So in this year of Reagan nostalgia, a competition to assume the mantle of the Republican icon – a "Reagan primary" of sorts – could break out among the Republicans jockeying (or thinking of jockeying) for their party's 2012 presidential nomination. Here's the state of play among 10 possible contenders:
---