Gary Johnson declares for president: Is he the next Ron Paul?
Republican Gary Johnson, who earned the nickname Governor Veto while cutting spending in New Mexico, announced his candidacy for president Thursday in New Hampshire. He also has a libertarian streak reminiscent of Rep. Ron Paul.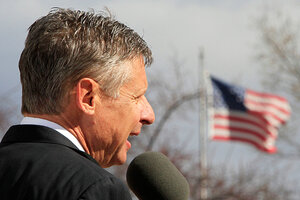 Jim Cole/AP
Gary Johnson, the Republican former governor of New Mexico, skipped formation of an exploratory committee and went right for the big show. "I am running for president," he blasted on Twitter Thursday as he made the same announcement in person from the New Hampshire statehouse.
But Mr. Johnson is not your typical Republican. As a governor, he set records for vetoing legislation over spending, earning him the nickname Governor Veto. He advocates legalizing marijuana, supports gay marriage, and opposes the wars in Iraq and Afghanistan. He also favors a temporary guest-worker program and a process that allows illegal workers to earn legal status.
In other words, Johnson has strong libertarian leanings. And he could be the next Ron Paul, the Texas Republican congressman and once-and-maybe-future presidential candidate who has a devoted following among young libertarians. Or Johnson could be even stronger than Paul, given his eight years of executive experience as a governor, from 1995 to 2003.
Election 101: Who is Gary Johnson?
"I'm a fix-it man," Johnson asserted in his announcement speech. "Within two terms, I'd eliminated New Mexico's budget deficit and cut the rate of state government growth in half while reducing the state workforce by over 10 percent, without laying off a single qualified state worker."
---