Mitt Romney makes a fundraising splash. How much does that matter?
Mitt Romney lays down the gauntlet to Republican contenders with a one-day fundraising haul of more than $10 million. His rivals probably won't be able to keep pace, but they may not have to.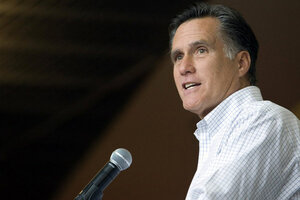 Las Vegas Sun/Steve Marcus/Reuters
The gauntlet is down. Mitt Romney raised $10.25 million in one day Monday, as nearly 800 people gathered at the Las Vegas Convention Center to make fundraising calls for the former Massachusetts governor.
It was an impressive haul by any measure, including a similar "call day" he held four years ago for his last presidential campaign that brought in about $4 million less.
Can any of the other contenders for the 2012 GOP nomination even come close? And do they have to?
The answers are "probably not" and "no." Each candidate faces his or her own benchmark of fundraising success when the bell rings on June 30 and candidates report their second quarter 2012 numbers to the Federal Election Commission. (The results will be made public some time in July, but expect the big fundraisers to trumpet their success in press releases.)
Mr. Romney is known for his fundraising prowess, and so he had to score big on Monday or appear inferior to the Romney of 2008, who failed to win the nomination.
"The expectation is that Romney will be far and away the frontrunner" in fundraising, says Larry Sabato, director of the Center for Politics at the University of Virginia, Charlottesville.
---