New Hampshire GOP debate belonged to Mitt Romney, Michele Bachmann
Rep. Michele Bachmann used the occasion of the debate to announce that she is definitely running for president. As for front-runner Mitt Romney, no competitors inflicted damage on his campaign.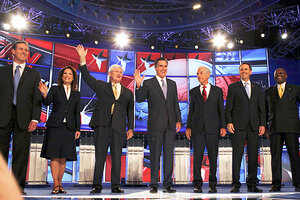 Joel Page/Reuters
Rep. Michele Bachmann stole the spotlight Monday night in New Hampshire, using the second GOP presidential debate of the season to announce that she is indeed running for president.
The Minnesota congresswoman and leader of the House Tea Party Caucus had telegraphed a campaign for weeks, but she made it official in her opening statement – triggering the early headline of the evening. Ms. Bachmann then delivered a strong debate performance, articulating her conservative views, demonstrating her status as an activist member of the House, and introducing herself to voters.
The most eye-popping point on Bachmann's résumé: She and her husband have been foster parents to 23 children, in addition to raising five children of their own. She pointed this out twice Monday night.
"Bachmann ... pleased with her performance, with reason," University of Virginia politics-watcher Larry Sabato tweeted at the end of the debate.
The second winner of the evening was Mitt Romney, the former governor of Massachusetts. The early front-runner for the Republican nomination could have faced "incoming" from other contenders, particularly over his Massachusetts health-care reform – a model for President Obama's reform – and his changed views on abortion. But the six other candidates on stage took a pass.
---