What Obama's record fundraising haul means for Election 2012
President Obama raised $47 million for his campaign and another $38 million for the Democratic Party during the second quarter of 2011 – a record haul for this early in the election cycle.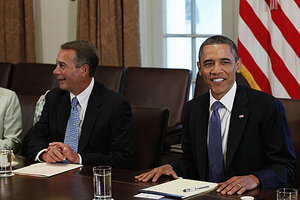 Charles Dharapak / AP
President Obama raised more than $47 million in the second quarter of 2011 for his reelection effort, campaign manager Jim Messina revealed Wednesday.
The number was a record for second-quarter fundraising in the year before an election, but did not break the all-time record for quarterly fundraising in a pre-election year. President George W. Bush holds that mark: $50 million in the third quarter of 2003 and $47.5 million in the fourth quarter of that year.
But Mr. Obama's haul likely surpassed that of the entire Republican field. Combining the known fundraising totals, Republican candidates brought in $35.5 million. Rep. Michele Bachmann of Minnesota, who announced her candidacy late in the quarter, has yet to report. Reports are due on Friday. The top GOP fundraiser, former Massachusetts Gov. Mitt Romney, raised $18 million in the quarter.
---
Follow Stories Like This
Get the Monitor stories you care about delivered to your inbox.