Rick Perry's most rapt audience: Michele Bachmann and Mitt Romney
A Perry candidacy for the 2012 GOP nomination could be devastating for conservative rival Michele Bachmann. Rick Perry would also be a bigger threat than Bachmann to moderate Mitt Romney.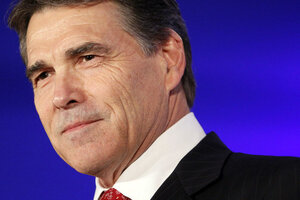 Patrick Semansky/AP
In the Dance of the Seven Veils that has become Texas Gov. Rick Perry's possible presidential campaign, the two most interested audience members may well be the top rivals for the GOP nomination: former Massachusetts Gov. Mitt Romney and Minnesota Rep. Michele Bachmann.
Six veils are gone. The seventh will go in the next two or three weeks. That's the time frame Governor Perry has laid out on a decision over whether to enter the 2012 race. In his latest public utterance on the matter, Perry told the Des Moines Register last week that he's "getting more and more comfortable every day that this is what I've been called to do." And Iowa Gov. Terry Branstad (R) told the Register he thinks it's very likely that Perry will run, based on a conversation the two had last Friday.
For Congresswoman Bachmann, a Perry candidacy could be devastating. Both are popular with tea party activists, both speak openly as Evangelical Christians about their conservative views on abortion and gay rights, and both know how to raise money. But Perry has extensive executive experience –more than 10 years as governor of Texas -– and Bachmann does not. He can also boast strong job creation during his tenure. Bachmann can't.
---