Next, Iowa straw poll: Why it matters to GOP presidential candidates
Six candidates are actively competing in the Iowa straw poll on Saturday. Those who fare poorly may find that fundraising dries up. Those who do well may see an infusion of campaign cash.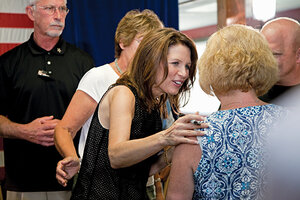 Carolyn Bubel /The Christian Science Monitor
They will come from near and far, the most dedicated of Iowa Republicans, for a day of speeches, barbecue, and music. Most important, they will cast ballots in the first major test of the 2012 GOP presidential field: the Aug. 13 Iowa straw poll.
Granted, the vote – which takes place at Iowa State University in Ames – is nonbinding. Three of the nine candidates on the ballot that day aren't even competing: former Massachusetts Gov. Mitt Romney, the national front-runner for the Republican nomination; former Utah Gov. Jon Huntsman Jr.; and former House Speaker Newt Gingrich.
But for the six taking part, who are the more conservative contenders in the field, it will matter a lot. Those who fare poorly may find that fundraising dries up and they have to drop out. Those who do well could find the wind in their sails – and a fresh influx of campaign cash – as they head into the Republican Party's first-in-the-nation nominating contest, the Iowa caucuses, early next year.
"The Ames straw poll is a good thing, because it shows what candidates have or don't have in terms of organizational muster," says Steve Scheffler, an Iowa Republican national committeeman and Christian conservative leader. "Based on past history, I'm guessing it will winnow the field."
---