Invisible presence at GOP debate in Iowa: Rick Perry
Eight candidates sparred at the GOP debate in Ames, Iowa, Thursday night. Though Texas Gov. Rick Perry wasn't one of them, his imminent entry into the presidential race changes everything.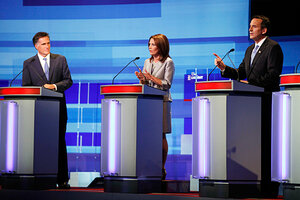 Charlie Neibergall/AP
He wasn't in the auditorium, but Texas Gov. Rick Perry loomed large over the eight candidates sparring at the GOP presidential debate Thursday night in Ames, Iowa.
Governor Perry is expected to announce his candidacy for president Saturday, a likely game-changer in the nascent 2012 race. The Texan brings to the table long executive experience, a record of job creation, populist charisma, and fundraising ability. He could give current (but weak) frontrunner Mitt Romney the kind of challenge the former governor of Massachusetts hasn't faced yet from the already-announced candidates.
In fact, at Thursday's debate, Mr. Romney stayed above the fray, as he had in the last debate, preferring to go after President Obama rather than any of the Republicans in the room. For Romney, the stakes were relatively low. He is not competing in Saturday's straw poll – taking place at Iowa State University in Ames, like the debate – and thus faces no expectations of success.
But some of the other candidates must do well Saturday or see fundraising dry up, and the prospect of having to drop out. The Ames debate represented the last, best chance for the contenders to make a splash on TV before the straw poll, and they did not disappoint.
---