Michele Bachmann defends credentials to be US president
Her chief GOP competitors – Mitt Romney and Rick Perry – have executive experience as governors. Michele Bachmann, coming off her win in the Iowa straw poll Saturday, says 'principles' and fighting for them are what matter.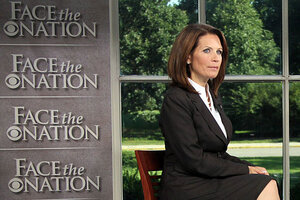 David Peterson/CBS News/AP
Presidential candidate Michele Bachmann, appearing Sunday on all five major news shows fresh off a victory in the Iowa GOP straw poll, repeatedly characterized herself as a "fighter" and defender of antitax and small-government principles in Washington.
Her self-portrayal is meant to counter suggestions that she has a slight record of accomplishment after 4-1/2 years as a US House member. Former Minnesota Gov. Tim Pawlenty, who dropped out of the GOP presidential race Sunday, had suggested as much leading up to the straw poll, emphasizing his own experience as a chief executive – a credential shared by candidates Rick Perry, governor of Texas, and Mitt Romney, former governor of Massachusetts, who are both very prominently still in the hunt.
---