Pawlenty exits GOP race; leaves Romney, Perry, Bachmann to duke it out
Tim Pawlenty bows out of GOP presidential race after Iowa straw poll. Winner Michele Bachmann and newcomer Rick Perry are expected to vie for favor of social conservatives, but Perry could also take support from Mitt Romney.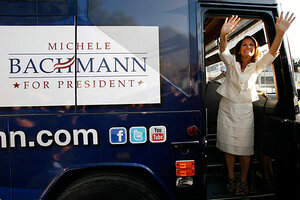 Charlie Neibergall/AP
Tim Pawlenty, the former governor of Minnesota, dropped out of the presidential race Sunday morning after finishing a distant third in Saturday's Iowa GOP straw poll.
Candidates who go all-in but fall well short in Ames typically find it difficult to raise money, and without personal wealth to fall back on, Mr. Pawlenty decided to cut his losses and bow out. In addition, the entry of Texas Gov. Rick Perry into the race Saturday, combined with Minnesota Rep. Michele Bachmann's victory in the straw poll, has shifted the focus to their expected battle for the hearts and minds of conservatives.
As things look now, the weekend scrambling of the race highlights three top players: Governor Perry, Congresswoman Bachmann, and Mitt Romney, former governor of Massachusetts.
There may be a longer-than-usual slog toward a winner than Republicans are used to. Perry enters the race as a top-tier candidate, second in national polls of GOP voters only to Mr. Romney. Bachmann was already placing third in polls, even before her victory in the Iowa straw poll Saturday, and has now solidified her status as a major contender.
Each of the three has planted a flag in different early-contest states: Bachmann in Iowa, Romney in New Hampshire, and Perry in South Carolina, where he announced his candidacy. Of the three, it's easiest to see Romney holding onto his first-place perch in New Hampshire, which he has been cultivating for years, and where his low-key approach on social issues fits the Northeastern sensibility.
---