Can Rick Perry maintain his good ties with Muslims as a GOP candidate?
As governor of Texas, Rick Perry has a long record of warm relations with Muslims. Could that be a liability in a GOP presidential field in which several candidates question US Muslims' loyalty?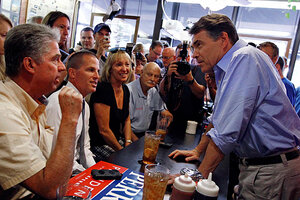 Jim Young/Reuters
In a GOP field crowded with presidential hopefuls questioning Muslims' loyalty and promising to crack down on Muslim religious sharia law in America, Texas Gov. Rick Perry enters the race with a distinguishing calling card: a historically good relationship with Muslims in his state.
Whether Governor Perry, as a presidential candidate, will continue courting Muslims – and whether that is a liability for Perry in the current Islam-leery climate – remains to be seen.
An evangelical Christian and self-described social conservative who recently led a Christian prayer rally in Texas, Perry has had a surprisingly warm relationship with Muslims as governor, says Mohamed Elbiary, founder of the Freedom and Justice Foundation, a Muslim public policy organization in Texas.
"We've seen him for 20 years at state level, as lieutenant governor and state governor," Mr. Elbiary says. "Throughout that whole history, he's never taken an anti-Muslim or anti-Islam position. He's a live-and-let-live type of Texan, and relations have been good."
In fact, Perry's relations with Ismailis, a Shia sect of Islam whose adherents number between 30,000 and 40,000 in Texas, have been particularly positive, says Mahmoud Eboo, President of the Ismaili Council for the USA.
---