George Pataki isn't 11th GOP presidential candidate, after all
Former New York Gov. George Pataki has reportedly decided not to enter the crowded field of GOP presidential hopefuls. It's hard to see where he could have carved out some turf, say analysts.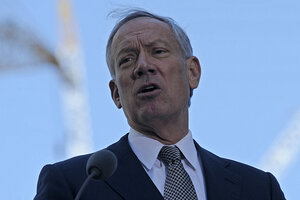 Peter Foley/UPI/Newscom
Former New York Gov. George Pataki (R) has decided not to enter the GOP race for president, a source close to the would-be candidate told CNN Friday morning.
Mr. Pataki had been flirting with a White House run for months and was scheduled to appear this weekend in the critical early-nominating state of Iowa.
"Speculation was that the former three-term governor would announce his candidacy Saturday at the Polk County Republican fundraiser," wrote Mark Preston in CNN's Political Ticker blog. "But the source said that Pataki, who seriously considered running, has decided instead to forgo a run for the GOP nomination."
The three-term governor, who also flirted with a 2008 White House bid, had been showing telltale signs of running in 2012: He signed on for the Polk County Republican Party picnic, scheduled several speeches in Iowa, and his nonprofit "No American Debt" has been airing TV ads in New Hampshire, an early nomination battleground state.
But the buzz also had candidate-watchers scratching their heads.
---