Rick Perry's kinder, gentler view on illegal immigrants: Will it cost him?
Gov. Rick Perry's Texas was the first state to let illegal immigrants pay in-state tuition rates at public colleges. He defended that decision during Monday's presidential debate, amid loud boos.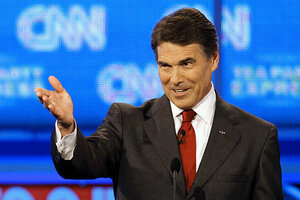 Mike Carlson/AP
Texas Gov. Rick Perry's support of in-state college tuition rates for children of illegal immigrants is raising eyebrows among tea party Republicans and is giving his challengers for the GOP presidential nomination fresh ammunition to attack him.
At a presidential debate Monday night, a tea-party infused audience booed Governor Perry when he defended his state's practice, and fellow candidates –particularly Rick Santorum, Michele Bachmann, and Mitt Romney – criticized him for signing legislation in 2001 that made Texas the first state to let undocumented residents who graduate from Texas high schools pay the same college tuition rates as legal residents. Since then, 12 other states have enacted similar laws.
"The American way is not to give taxpayer-subsidized benefits to people who have broken our laws and are here in the United States illegally," Ms. Bachmann said Monday night during a debate sponsored by CNN and Tea Party Express.
---