Perry vs. Romney: Does it matter whom Obama faces in 2012? In short, yes.
Even with high unemployment and a sluggish economy, it still matters whom the Republican Party nominates to face Obama. For now, Romney appears likely to be a tougher foe than Perry.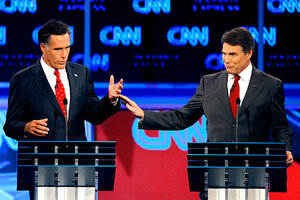 Mike Carlson/AP
Suppose for the moment that the 2012 election is just a few months away, and President Obama still has a fighting chance at reelection.
Unemployment is creeping downward, though still not far from 9 percent. The economy is still growing, barely. And Mr. Obama has managed to nudge his job approval ratings up near 47 percent.
Will it matter whom the Republican Party nominates? In a word, yes.
"Who the nominee is will be very, very important," says Karlyn Bowman, an expert on polling at the American Enterprise Institute.
Democrats keep insisting that the presidential race will be a choice, not just a referendum on the incumbent. And the Republican nominee, no matter who it is, will not be without flaws. As Maryland Gov. Martin O'Malley (D) put it at a Monitor-hosted breakfast Thursday, Obama is "not running against the Almighty, he's running against the alternative."
Cal Jillson, a political scientist at Southern Methodist University in Dallas, frames Obama's prospects this way: "He's eminently beatable, and Republicans smell this. But in electoral politics, it's always compared to whom."
---
Follow Stories Like This
Get the Monitor stories you care about delivered to your inbox.