Why are Michele Bachmann and Mitt Romney campaigning early in Arizona?
Mitt Romney and Michele Bachmann were both in Arizona Wednesday, wooing voters and endorsements. Arizona's primary isn't among the earliest, but the state may yet prove to be pivotal.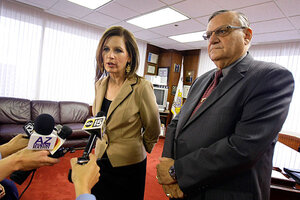 Paul Connors/AP
Beyond Iowa, beyond New Hampshire, beyond Nevada, South Carolina, and Florida, there's the Arizona primary. Two Republican presidential candidates – former Massachusetts Gov. Mitt Romney and Rep. Michele Bachmann of Minnesota – campaigned in the state Wednesday, wooing voters and building an organization – even though Arizona has decided not to move its primary to an earlier spot on the GOP nominating calendar.
Why Arizona now? It's possible that Arizona's primary on Feb. 28, a week before Super Tuesday, still comes early enough to play a pivotal role in determining the Republican nominee. That could happen if, as some political analysts predict, the first group of nominating contests does not establish a clear leader.
Fresh off a solid performance in Monday's nationally televised debate, Mr. Mitt Romney met with a group of business owners in Tucson and later participated in a town hall meeting in the Phoenix area. Meanwhile, Ms. Bachmann was in the state capital raising funds and wooing Maricopa County Sheriff Joe Arpaio in hopes of securing the endorsement of the controversial immigration hardliner.
---