Herman Cain wins Florida GOP straw poll. How big a loss for Rick Perry?
Herman Cain won Saturday's GOP straw poll in Florida by a wide margin, although he's still way behind in national polls. The big loser was Rick Perry, who campaigned hard for the Florida poll as a way to recover from his lackluster debate performance.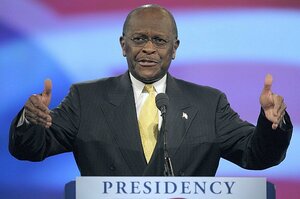 Phelan Ebenhack/Reuters
Herman Cain had his moment in the Florida sun Saturday, winning that state's straw poll of party activists and dealing another blow to Rick Perry.
The Texas governor had counted on the Florida beauty contest to boost his chances after a lackluster performance in Thursday night's Republican presidential candidates debate, and he'd actively courted delegates. But with just 15 percent of the 2,657 votes cast, Perry won fewer than half the 37 percent going to Cain and just a fraction more than his main rival Mitt Romney, who did not actively participate in the electioneering.
"We were all looking at Perry as our knight in shining armor, but we're finding out he has some baggage," Joyce Estes, a delegate from Apalachicola, told the Wall Street Journal. "The question is how much baggage we can accept."
Such votes are hardly representative of all voters, or even of a cross-section of typical Republican voters. Those voting at straw polls are party activists – in this case those at the weekend's Conservative Political Action Conference.
---