Mitt Romney's hawkish foreign policy plan: A substitute for experience?
In a speech at The Citadel military college in South Carolina Friday, Republican presidential hopeful Mitt Romney outlined a muscular foreign policy and national security plan.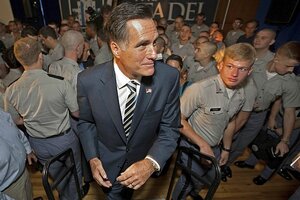 Mic Smith/AP
Republican presidential candidate Mitt Romney has laid out a hawkish foreign policy and national security plan for what he calls an "American Century."
Speaking at The Citadel, a military college in Charleston, S.C., Mr. Romney sought both to distinguish himself from President Obama and to place himself ahead of his GOP rivals. His speech marked a more detailed foreign policy statement than any other candidate in the Republican primary race has made so far.
The businessman and former governor of Massachusetts – with little foreign policy or military experience – presented a muscular view of the United States and its dominant place in the world.
"In an American Century, America has the strongest economy and the strongest military in the world," he said. "In an American Century, America leads the free world and the free world leads the entire world."
Among other things, Romney proposes to:
Add 100,000 new troops to US forces.
Increase military spending.
Increase the rate of the Navy's shipbuilding program from nine to 15 vessels per year.
Station a large aircraft carrier group in the Persian Gulf to put pressure on Iran.
Strengthen alliances with the United Kingdom, Israel, and Mexico.
---