Sex, race, and religion: Speed bumps along the campaign trail
Mitt Romney's religion, Herman Cain's comments about Muslims, Rick Perry's hunting camp with the racially-offensive name – just a few of the distractions along the 2012 campaign trail.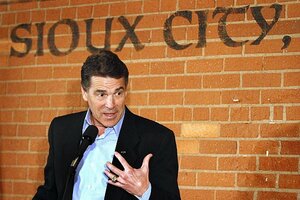 Jim Lee/The Sioux City Journal/AP
Presidential campaigns are filled with potential speed bumps, some merely shaking the dust off the hubcaps, others wrecking the suspension or even knocking off the wheels. Some appear unexpectedly, others are self-constructed.
Campaign 2012 for the field of Republicans hoping to unseat Barack Obama is no exception.
Mitt Romney has to deal with his Mormon religion – again – while the other candidates figure out how to respond to a prominent evangelical pastor's slam against the Church of Jesus Christ of Latter-day Saints.
Rick Perry (whose supporter was the minister who said Mormonism was "a cult" and "not Christianity") still is trying to explain how and why his family's hunting camp had a racially offensive name.
Herman Cain had to pronounce himself "humble and contrite" for statements he'd made about Islam and Muslims. (He had supported a Tennessee town's effort to ban a mosque, had said Muslims "have an objective to convert all infidels or kill them," and had said he would think twice about naming a Muslim to his cabinet "because terrorists are trying to kill us.")
All the GOP candidates seemed flat-footed when a debate audience booed a gay soldier who posed a question (via video from Iraq) about "don't ask, don't tell."
---