GOP presidential debate fallout: Is Mitt Romney becoming inevitable?
At Tuesday's GOP presidential debate, Mitt Romney fielded questions deftly, attacked when given an opening, and stayed out of jab-fests. Contenders so far haven't knocked him off stride.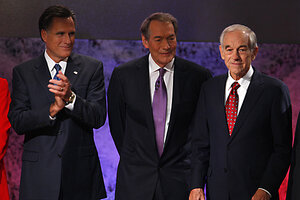 Andrew Harrer/Bloomberg
Mitt Romney may have been the big winner of last night's Bloomberg/Washington Post GOP debate. He fielded questions deftly, attacked when given an opening, and kept his mouth shut when rivals were jabbing at one another. On Wednesday morning, a number of commentators are noting that Mr. Romney at times began to seem in some way inevitable – as if the other wannabes around the table were jockeying to be his VP.
"Another sterling debate performance from Romney, who once again looked far more presidential than anyone on stage," writes CBS News political analyst Brian Montopoli.
Romney had a few rough moments when he sparred with Texas Gov. Rick Perry over what fellow Republicans derisively call RomneyCare, the health-care plan he signed when governor of Massachusetts. But he parried back at Governor Perry by noting the huge number of people without health insurance in Texas. He let others attack the "9-9-9" tax plan of Herman Cain, the new member of the race's top tier. And when pressed as to whether his former firm Bain Capital had been a job-killer, he ticked off the names of firms started with Bain money, from Sports Authority to Staples.
---