9-9-9 tax plan: Does it make Herman Cain a Robin Hood for the rich?
9-9-9 tax plan is helping Herman Cain soar in GOP presidential polls. But does a 9 percent national sales tax and a flat 9 percent income tax take from the poor and give it to the rich?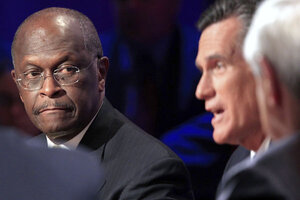 Andrew Harrer/AP
Republican presidential contender Herman Cain has a provocative plan for reforming the US tax code: No federal tax higher than 9 percent for anyone.
His "9-9-9" tax plan has resonated with many Republican voters for its simplicity and boldness. It's one factor that has propelled Mr. Cain upward in recent weeks as other presidential hopefuls have been faltering.
But now, with many people looking closer at Cain as a top rival to former Massachusetts Gov. Mitt Romney for the Republican nomination, the 9-9-9 tax plan is also drawing closer scrutiny. Perhaps the most politically sensitive question concerns fairness.
Some independent tax experts say the plan would amount to a big tax cut for the wealthiest Americans, and a tax hike for millions at the lower end of the income scale. In fact, many poorer Americans could pay a higher effective tax rate than the rich, they say.
Cain's plan is for a flat 9 percent income tax, a 9 percent sales tax, and a 9 percent tax on business income. The Cain premise is to treat all Americans with flat-rate simplicity, but his plan could have an impact that varies widely among different groups.

Central to the debate is that middle- and lower-income Americans spend almost all of their income, meaning the sales tax would constitute a higher percentage of their income than it would for wealthier Americans whose income exceeds their living expenses. The richest Americans, meanwhile, would see a big decline in their income-tax rate.
---
Follow Stories Like This
Get the Monitor stories you care about delivered to your inbox.