Herman Cain 9-9-9 sticker shock? 18% sales tax possible in some states.
Under the Herman Cain 9-9-9 tax plan, a new federal sales tax would be added on top of existing state and local sales taxes. That means 9-9-9 could yield large sales taxes in some places.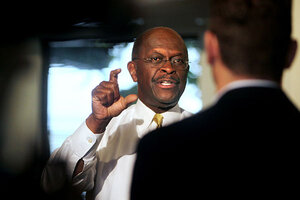 Carrie Cochran/The Enquirer/AP
Are you ready for some Herman Cain sales tax sticker shock?
If the Republican candidate's 9-9-9 tax plan – which would set up a 9 percent federal sales tax, 9 percent federal payroll tax, and 9 percent federal business tax – were to go into effect, the new federal sales tax would piggyback on top of state and local sales taxes already in existence.
As a result, sales taxes around the nation would be considerably higher than 9 percent.
The residents of Tennessee and Arizona would, on average, have to pay more than 18 percent in combined state, local, and federal taxes, using data from the Tax Foundation, a nonpartisan tax research group in Washington.
At least 12 states would have average sales taxes over 17 percent. California, for example, would come in at a combined rate of 17.13 percent.
And residents of four states – Delaware, Montana, New Hampshire, and Oregon – would have to start paying a sales tax. Currently, they have none.
---