Rick Perry jobs plan: Make rest of America more like Texas
Texas Gov. Rick Perry, in an address in Pennsylvania, says the energy sector could create jobs in plenty of states where there are resources, and vows to lead charge to clear regulatory hurdles.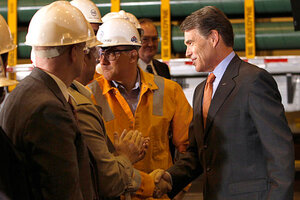 Keith Srakocic/AP
Presidential candidate Rick Perry had a simple message for a job-hungry nation on Friday: The energy business isn't just for his home state of Texas.
In remarks at a Pittsburgh-area steel plant, Governor Perry sketched a vision of a nation where more than 1 million additional workers can be busy drilling for oil and gas, mining for coal, and finding new offshore resources.
"Right here in Pennsylvania, and across the state line in West Virginia and Ohio, we will tap the full potential of the Marcellus Shale and create another 250,000 jobs," he said in unveiling a major piece of his overall economic plan.
In short, his point is that the nation's job climate wouldn't be so bleak if the rest of the nation takes a cue from his own home state. And he pledged that if elected president, he would lead the charge with efforts to clear regulatory hurdles out of the way.
"We have the resources we need to fuel our cars, our homes, and our power plants," Perry said. "They can be found in ... Oklahoma, North Dakota, New Mexico, Alabama, Kentucky, throughout the American West, and, of course, Alaska."
---