Mitt Romney's secret weapon: Iowa caucuses could go his way
Mitt Romney was not expected to do well in the Iowa caucuses and has put little effort into winning Jan. 3. But polls suggest that he might be well positioned for a victory.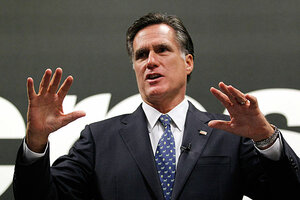 Elaine Thompson/AP
Mitt Romney in Iowa? The former Massachusetts governor has spent hardly any time there since the start of the campaign, and did not spend time or money competing in the Iowa straw poll in August. Now, his campaign announced Tuesday, Mr. Romney will make three appearances Thursday in conservative northwest Iowa – Sioux City, Treynor, and Council Bluffs.
The Hawkeye State was always going to be an important first test for the GOP candidates, with its first-in-the-nation caucuses on Jan. 3. But it was never clear how much of an effort Romney would make there. Perhaps, analysts suggested, the more-conservative candidates would duke it out in Iowa, then the top finisher or finishers would face off against Romney, who is expected to win the New Hampshire primary.
Now, it appears, Romney could actually do well in Iowa. In the Real Clear Politics average of recent polls of Iowa Republicans, Romney is second only to businessman Herman Cain, and not by much. Mr. Cain is at 25 percent and Romney is at 22, followed by Texas Rep. Ron Paul (11), Minnesota Rep. Michele Bachmann (10), Texas Gov. Rick Perry (9), former House Speaker Newt Gingrich (8), former Pennsylvania Sen. Rick Santorum (4), and former Utah Gov. Jon Huntsman Jr. (1).
---